We have the knowledge, skills and experience to create custom displays that drive sales growth and help any product stand out in a retail setting.
Even if you have the best product in the world, it won't receive shopper attention unless it's displayed correctly in-store. Not only do we realize this at d3, but we also have the knowledge, skills and experience to create custom displays that drive sales growth and help any product stand out in a retail setting. If you've been looking for a way to highlight your brand, turn over your project to us at d3.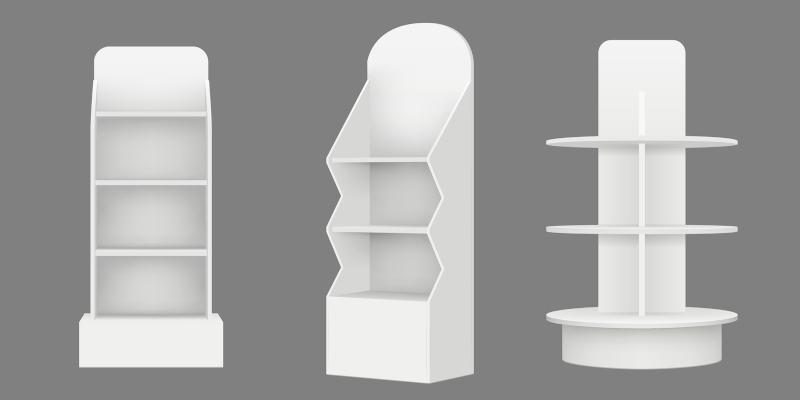 We design, create, populate, and ship custom retail, POP, temporary, semi-permanent, and permanent custom displays. But that's not all we do! As your partner, we'll collaborate with you throughout the design and creation process to ensure the display solution we come up with works for you and your brand. That's just part of our signature DEFINE • DESIGN • DELIVER process.
We take our role as a member of the Co-Pak family seriously. This means that when you turn to us to help you create custom displays for your brand, your needs won't be looked over. Instead, they'll remain at the forefront of everything we do. From the initial discovery stages to the day your displays ship out to the stores of your choice, this is what makes our custom displays truly unique.
Let us be the only place you turn to for custom displays and for the rest of your display design and creation needs. We promise we won't disappoint. To see our portfolio of past projects, get in touch with us at d3 today.
Inform, Engage, and Compel with Custom Displays
Effectively showing off your brand in a retail setting is no easy task. After all, the average shopper will only give a product a matter of seconds before they decide to purchase or move on. If you want to not only compel shoppers with your custom displays, but inform and engage them, follow these guidelines:
Pick the right size—When it comes to custom displays, having larger displays isn't always the best route to go. Rather than trying to create the biggest displays possible, emphasize a unique design, bold colours, and compelling shapes instead.
Focus on your brand identity—When you come up with custom displays, your brand identity is the most important thing to showcase. Ensure your brand sends the right message to your client base, so shoppers immediately understand who you are and what you do.
Choose graphics carefully—On top of your brand image, you'll also want to choose graphics to incorporate throughout your custom displays. Remember that too many graphics can make your displays look unorganized and unprofessional while too few can make your displays lack visual interest. In most cases, including one larger image and two smaller ones is the best method to use.
In addition, choosing the right team to help you with your custom displays is key to branding success. Get in touch with us at d3 today to find out more about what we can do for you and your brand!
---
At d3, we offer custom displays to businesses throughout Canada, including Toronto (GTA), Montreal (GMA), Vancouver (GVA), Mississauga, Etobicoke, Brampton, Calgary, and Halifax. We also serve the USA, including Chicago, New York, New Jersey, Los Angeles, Dallas, Seattle, Atlanta, Charlotte, Kansas, and Miami; Europe, including London, Paris, Barcelona, Frankfurt, Milan, Prague, and Budapest; and Asia, including Mumbai, India; Bangkok, Thailand; Manila, Philippines; Beijing, China; Colombo, Sri Lanka; and Sao Paolo, Brazil.
Custom Displays Come with Many Benefits
We Can Help with All Types of Custom Displays
Extremely pleased with the level service, quality & follow-through.
"Working with Co-Pak has been an amazing experience. They know how to service an account and keep all the projects on track. I am extremely pleased with the level service, quality & follow-through they have given us. I highly recommend them. "
★★★★★ Google Review
Similar Services We Offer: