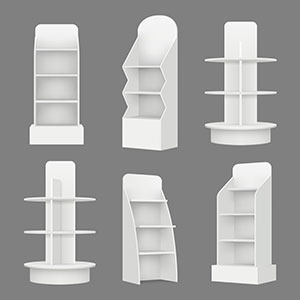 When it comes to custom permanent displays, there are a wide variety of materials from which to choose. We will discuss various material options during your needs assessment and design phase because we want to make sure your custom permanent displays fit the environment in which they will be used, as well as your brand message.
The options you have for materials is virtually endless, but some of the most popular options are:
Wood: Options for wood include lumber, melamine and high-pressure lumber. Wood is a popular choice because it is strong while also feeling warm and inviting to potential buyers. It can be stained or painted to achieve almost any colour and can be used in a traditional, modern or vintage style.
Metal: Metal can be wire, bent, die cut and welded. It can be finished with a powder coating or painted. It is sturdy and long-lasting, making it a great choice for custom permanent displays.
Plastic: This lightweight material can be moulded into just about any shape. It can be vacuum formed or injected into a mould. It can be coloured to suit the environment in which it will be used.
Beyond wood, metal and plastic, other options for custom permanent displays include glass, corrugate and more. Because custom permanent displays are meant to be used for a year or more, it is crucial that the materials used are durable and can stand up to the retail environment over time. The material also needs to be something that can accept paint, vinyl or other methods of adding graphics and text to the final display.