We'll Get The Design For Your Temporary Displays Right.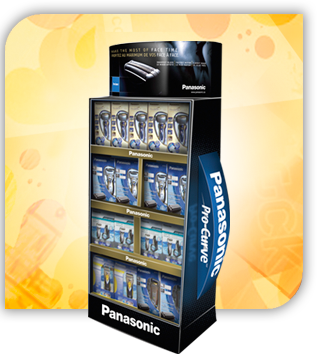 Do you have a product you want to show off for just a few months or for a specific season? Temporary displays created by d3 are the right move! We create displays that take any product's in-store performance from good to great by grabbing shopper attention. Plus, just because our temporary displays aren't created to be around forever doesn't mean they're lacking in terms of form, function, or design. Let us create temporary displays for your brand, and we'll impress with our impressive attention to detail and commitment to getting things right.
The temporary displays we create aren't limited in terms of their design and scope. We can come up with retail, POP, or custom displays that make sure your products get noticed in any retail environment. Whether you want your displays to be eye-catching and complex or simple and striking, we will do our part to come up with a design that matches your vision and gets real results. From the day we start designing to the day we ship your displays out in sturdy containers, the creation of your temporary displays is in good hands.
Whatever challenge you bring to us, we're up to tackle it! Our highly talented design team here at d3 is dedicated to the performance of your brand, and we possess impressive knowledge about major retailers. Get in touch with us today to find out more about designing great displays for your product in Vancouver, British Columbia.
---
At d3, we offer temporary displays to businesses throughout Canada, including Toronto (GTA), Montreal (GMA), Vancouver (GVA), Mississauga, Etobicoke, Brampton, Calgary, and Halifax. We also serve the USA, including Chicago, New York, New Jersey, Los Angeles, Dallas, Seattle, Atlanta, Charlotte, Kansas, and Miami; Europe, including London, Paris, Barcelona, Frankfurt, Milan, Prague, and Budapest; and Asia, including Mumbai, India; Bangkok, Thailand; Manila, Philippines; Beijing, China; Colombo, Sri Lanka; and Sao Paolo, Brazil.